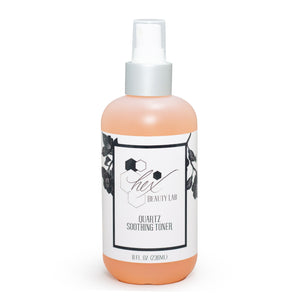 Ginseng Root - Flower Oil - Roman Chamomile - Bio Extracts
Made to Refresh, Hydrate and stimulate the skin's natural repair process. Bound with Ginseng Root and Roman Chamomile Flower Oil to promote skin elasticity and help retain moisture. A revitalizing and healing formula made to soothe irritation and balance the skin's PH level.
Cruelty Free, Alcohol Free, Silicone Free, Nut Free, Sulfate Free, Paraben Free, Phthalate Free and Gluten Free. PH Level 6.0
Product Highlights-
Roman Chamomile Flower Oil assists skin in moisture retention

Ginseng Root helps heal broken and irritated skin

Promotes skin elasticity

Helps the rest of your skincare routine penetrate deeper into the skin

Keeps skin clean and bacteria-free

Balances skin's PH level

Use twice daily after cleansing

Great for all skin types, especially for acneic, dry and sensitive skin
Directions: Use after thoroughly cleansing. Removes all cleanser residue and prepares skin for moisturizer
8 FL. OZ.
Made in the USA
Amazing!
I have used LOTS of toners in the past and I have to say this is my absolute favorite one! I have dry and oily patches on my skin and it has helped a ton! It definitely evened out my skin tone and has helped with my rosacea.
Sigh of Relief
This product is like a sigh of relief for your skin. I spray it into my hands and then apply it to my skin. It spreads easily and absorbs quickly into my skin. Other Toners I've used have been too harsh for my super sensitive skin. But this product is so gentle and perfect. Couple this with the Jade Aloe Cleanser and it's a match made in heaven!
Love It
This toning spray is absolutely amazing! I deal with dry skin and I get patches of red (especially after showering or washing my face)! This stuff is so amazing for evening out my tone! It's extremely soothing. It smells amazing. Definitely a staple in my routine!
Love love love
I'm not a huge fan of the smell of roses BUT LET ME TELL YOU I am in love with this toner! It's such a light mist, just a little chilly if you spray directly into the skin. The scent I can get through because it's so airy and smooth. A little goes such a long way and I've got a while before this first bottle will be anywhere near empty!
Very gentle
My skin have never reacted well to toners because they can be pretty harsh. But with this I've never felt any type of burning or drying feeling on my skin and it feels so good to mist this on. This is definitely one of my favorite hex products.