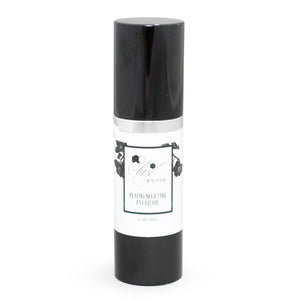 Peptides - Vitamin K - Co-Q10 - Matrixyl Amino Acids
A powerful eye cream clinically shown to treat deep or fine wrinkles around the eye area. It hydrates and regenerates the skin using Peptides, Vitamin K, Co-Q10 and Matrixyl Amino Acids. This cream helps lift the eye area, lessen dark circles and give you that smooth youthful under-eye you desire.
Cruelty Free, Alcohol Free, Silicone Free, Vegan, Nut Free, Sulfate Free, Paraben Free, Phthalate Free and Gluten Free. Ph 5.0
Product Highlights-
Helps regenerate tired sagging skin

Vitamin K is used to diminish vascular darkness, broken capillaries and redness

New studies show Matrixyl Amino Acids are working better than Retinol for lines and wrinkles, so we packed it in there

Co-Q10 attacks free radicals and promotes a brighter under-eye

Aloe (instead of water) is the first ingredient to promote lasting hydration

Squalene seals in moisture and other key ingredients

Use morning and night after cleansing and toning skin

Perfect for all skin types
Directions: Apply gently to eye area or any other wrinkles you'd like to improve.
1 FL. OZ.
Made in the USA
Platinum Lifting Eye Elixir
Great results!
I truly love how this product feels on my skin. It prevents sagging and puffiness. I never want to be without this.
Amazing !!
Best product hands down for dark circles and under eye bags after a couple uses you'll see an incredible difference love it !!
Bye Bye Mom Bags
I can't say enough about this stuff. I have dark circles, puffy bags, and fine lines under/around my eyes. Within just a few days of using this, they looked so so so so much better. I have never had something that works this well! I don't have to use concealer anymore. Incredible!
Spectacular product!
I've never had a better product for my under eye bags and dark circles! It's got such a light fragrance and feel that you hardly even know it's there except for the cooling rush as you put it on. I never have to worry about my eyes being puffy any longer knowing I'm using this amazing product!