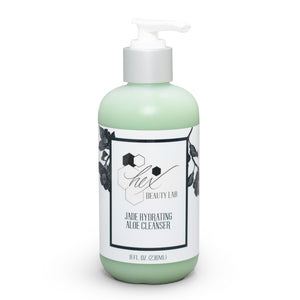 Green Tea - Aloe - Aquatic Algae - Sucrose Cocate
Gently cleanse debris and makeup with our targeted non-foaming gel formula. Made with algae, green tea, rose, olive and hibiscus extracts to increase skin's hydration and elasticity. Sucrose Cocate soothes the skin while unclogging pores, leaving skin balanced and healthy. Your skin will not be stripped of its natural oils. This formula is perfect for sensitive skin types.
Oil Free, Cruelty Free, Alcohol Free, Silicone Free, Vegan, Nut Free, Sulfate Free, Paraben Free, Phthalate Free and Gluten Free. Ph 6.2
Product Highlights-
Soothing, hydrating and anti-inflammatory

Balances skin's PH level

Does not strip skin of its natural oils

Excellent at removing makeup

Unclogs pores 

Use morning and night

Perfect for sensitive, aging and acneic skin types
Directions: Apply product to damp skin, rub in for one to two minutes, rinse off. A double cleanse is recommended if you are wearing makeup. Follow with a Toner and Moisturizer.
8 FL. OZ.
Made in the USA
This is my favorite cleanser. A must every single day.
First order Definitely wont be the last !
I have skin that is on the oilier side, I placed an order for the Jade Hydrating Aloe Cleanser and I was decently surprised to find that it is a very light weight formula & non irritating on the skin. Will definitely be ordering again <3
Holy grail!!!
This is literally the best face wash on earth. I have struggled with acne my entire adult life. Since using Jade I can confidently wear no makeup and that is new to me!
Best cleanser in the world. Super fast shipping.
Soothing Heaven
I adore this cleanser. The very first time I used this product I was astounded by how wonderful it smelled. I used to dread washing my face, it was just one of those chores I had to do. Now I actually look forward to my twice-daily cleansing because it is such a pleasant experience to use this product. It smells good, it feels good, and my skin is singing afterward. Go buy it for sure!!! You will not regret this purchase.