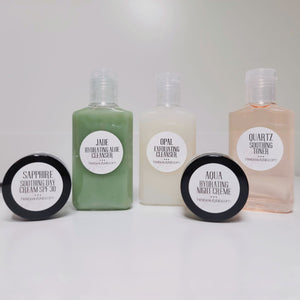 Grab FIVE of our favorite products now in convenient travel sized packaging. Set includes - Jade Hydrating Aloe Cleanser 1oz, Opal Advanced Exfoliating Cleanser 1oz, Quartz Soothing Toner 1oz, Sapphire Soothing Day Cream SPF 30 .5oz and Aqua Hydrating Night Creme .5oz. 
Packaging is fully recyclable, refillable and reusable. Product won't leak out if closed properly even under pressure in a plane. Designed to last about 7+ days depending on usage.
Hex -On The Go- Collection
I am so happy this is an option!
Not only is this great for travel I feel like this is a great sample pack to get for somebody who is interested but may not know where to start! I love this product and I love being able to travel with is now as well!