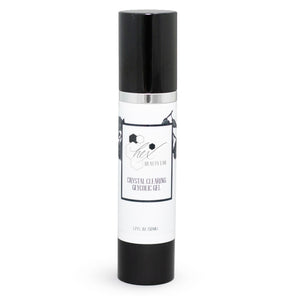 Glycolic Acid 6% - Alpha Hydroxy Acid - Vitamin A & E - Squalane
An innovative serum that helps prevent bacteria buildup on the skin, keeping acne-prone skin healthy and blemish-free. Glycolic Acid helps accelerate the turnover of dead skin cells while also stimulating new collagen production. Vitamins A and E help improve the skin's elasticity and hydration levels.
Cruelty Free, Silicone Free, Vegan, Nut Free, Sulfate Free, Paraben Free, Phthalate Free and Gluten Free. Ph 3.2
Product Highlights-
Helps improve texture, pores and pigmentation

Squalene seals in moisture and soothes irritation

Aloe (instead of water) is the first ingredient to promote lasting hydration

Butylene Glycol works as a humectant and emollient

Work up to using it 2-3x a week in the evening for best results

Always wear a sunscreen during the day while using this product

Targeted for aging, acneic, textured or hyperpigmented skin types
Directions: After Cleansing and Toning the skin, apply to face, neck and chest. Do not use around eye area.
1.7 FL. OZ.
Made in the USA
Crystal Clearing Glycolic Gel
Everyone needs this!
I have truly never loved a face product more in my life! This clearing gel does just that, clears your skin! I get small sweat breakouts and this gel clears it up over night or two nights depending on how bad. Not to mention it haha helped wonders with my post acne marks/dark spots. Also my skin has never felt so smooth and soft than it has after I started using this product at night. Worth every penny!
My love
Everyone needs this product. I can't explain how much I love this gel. I've tried SO MANY products like this; they usually burn and irritate my skin and cause more redness instead of reducing it! This is NOT like any of those. I've had acne and sensitive combination skin for 15+ years and this is the first thing that's consistently evened out my skin tone AND texture AND kept it hydrated with out making it crazy oily. Seriously so happy with this. Thanks Annie 🥰
GAME CHANGER!!!!
THIS product (along with using several of Annie's other products) has made my skin SO CLEAR. Before I started using it, I would have regular breakouts on my chin. About a week after I started using it, my skin cleared up completely and I haven't had any acne since. I SWEAR by this. Non-stop compliments from all my friends about my skin! This is an absolute must buy.
Freaking AMAZING!!!
You will never forgive yourself if you don't get this product! Acne? A thing of the past when you're using this! I can't wait to see the full results as the days pass, I'm only about 2 weeks in and I'm seeing that many results already 😍😍