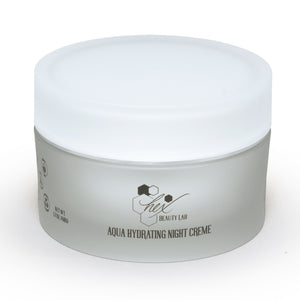 Co-Q10 - Vitamins A, B, B², C, E, K & P - Rose Hip Extract - Ginseng Extract
A rich quality ingredient-packed creme made to fight aging, reduce redness and show you results you can see. Packed with vitamins: A, B, B², C, E, K & P all work together in nourishing the skin, protecting it from premature aging and stimulating collagen production. Rose Hip Extract strengthens the cell walls and helps push hydration deep into the skin. Co-Q10 attacks free radicals and visibly helps with wrinkles and pigmentation while you sleep.
Cruelty Free, Alcohol Free, Silicone Free, Vegan, Nut Free, Sulfate Free, Paraben Free, Phthalate Free and Gluten Free. Ph 7.0
Product Highlights-
Antioxidants fight against the structural breakdown of skin over time

Aesculus Hippocastanum is a vasoconstrictor which aids in reducing redness and helps clients with rosacea

Visibly helps with wrinkles and pigmentation

Ginseng helps soothe and hydrate dry skin

Apply nightly for best results

Perfect for all skin types
Directions: After Cleansing and Toning apply to face, neck and chest.
1.7 FL. OZ.
Made in the USA
Aqua Hydrating Night Creme
Amazing!!!
I love her products, very gentle on skin and seen results after a good month. 10/10 would recommend
Its amazing
I want to live inside the jar of night creme
Skin care
great skin care - I love the quality fo the product.
Aqua Hydrating Cream Review
Best products in the business. Keeps my face clear of acne and hydrated.