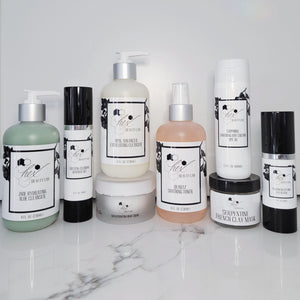 Grab ALL EIGHT products at a discounted price. Set includes - Jade Hydrating Aloe Cleanser, Opal Advanced Exfoliating Cleanser, Quartz Soothing Toner, Platinum Lifting Eye Elixir, Sapphire Soothing Day Cream SPF 30, Aqua Hydrating Night Creme, Crystal Clearing Glycolic Gel and Serpentine French Clay Mask.
The wait is over
I kept eyeing this product up but didnt think i could really justify buying it for myself. Being a mom and parter I do a lot for others. Ive been struggling with mental health, and seasonal depression so this year I decided to Treat myself, as an investment in myself. I'm so glad I did. Investing in myself was the best thing. I LOVE washing my face with the cleansers. My face legitimately feels so clean and soft afterwards. The toner smells delightful. I feel absolutely radiant after I finish with glycolic gel, eye elixir and day cream. I've been using for about 2 weeks now and my partner says I'm glowing ♡
Absolutely in love
The best facial products I've ever used. My skin so soft and clearing up so nicely and I've only been using them for just over a week! 10000/10 recommend. Will continue to buy these products!
I am loving this line!
I am so excited to finally take the plunge and buy the whole line of product from Hex Beauty Labs! Artistry by Annie has been so great to work with and I will definitely continue buying products from her!
Amazing! Results in less than a week!!!
I started using Hex Beauty Lab products exactly a week ago. I have struggled with acne, oily and dry skin, redness and major break outs for the last 2 years. I have tried Proactive, prescriptions and endless over the counter products that have done little to nothing. After using Hex products for a week my face has cleared up ALOT just within that short period of time. I'm absolutely loving my results after I have struggled for so long. The products feel good, smell good, leaving my face refreshed and clean. I would highly recommend these products if you've been struggling to find just the right product for your face! You will love the end results!
AMAZING deal!!
As the person who helped create this collection (the bundle, not the skincare), I've got to definitely brag about how happy I am to see it's so popular! You will not find amazing skincare line this at this price ANYWHERE because it's not physically possible!! Annie has made Hex Beauty Lab into such an inspirational skincare line that will be talked about for GENERATIONS! Get your "I want it all" collection before it sells out again people!!